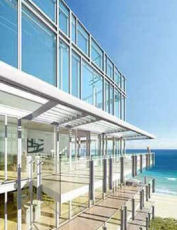 Kensington have an in-house licenced architect who speaks both English and Thai. The architect is both respected and knowledgeable in his career and has helped many foreign people realise their dreams. He has many years of experience and knows exactly how to design buildings to maximise airflow, create cooler living environments, maximise space and save energy. His dedication to the client is unsurpassed and all the many customers like him very much. A recent design of his won the Conde Nast hottest 100 Hotels Asia award.
Kensington's architectural fees are normally 50% lower than the accepted national architectural fee and consequently their service remains very popular. In addition to Kensington's own architect they are also associated with some of the best architects in the country. If you are looking for an architect in Thailand and would like to work with one, then contact Kensington and they can help you.
"The Villa Water Orchid"
Conde Nast Hottest 100 Asia Hotels Award May 2008
Designed & Built By Kensington Company Limited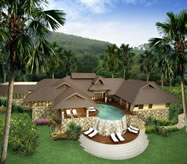 It is extremely beneficial for you to know the architect is professional and has a good working relationship with the builder. This is vital to the successful conclusion of the project. Success comes from many areas but the relationship of the builder and architect is one of the most important aspects. For you to know that both your architect and your construction company, who is designing and building your home, talk and know each other is a hug benefit. However Kensington are also very happy to work professionally with any architect.
As a company, Kensington has been associated with many different architects in Thailand and architectural companies in Thailand. It is always Kensington's goal to function professionally with any architectural practice, whether that is an architect the customer has chosen, or an architect that Kensington is associated with. Kensington have designed and built properties while the clients are away from Thailand. Using the e-mail service and digital attachments, concepts and designs can easily be worked on. It is one of Kensington's most successful areas of business, as it means the client has no worries, no concerns or hassles. They can carry on their normal life, business career or job. Kensington take responsibility for the project while the client is away. Many clients are extremely busy and it means they can help them to maximise their time.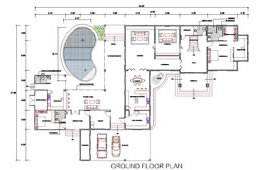 Kensington takes the responsibility very seriously and always honour what they agree to. Integrity and customer care is very important to them. Kensington respect the client and the property they build for them in Phuket. So if you are abroad in a foreign country, this is no problem at all. You can be confident knowing Kensington can deal with it all for you, regularly updating you when necessary.
The design and planning part of any construction project in Thailand, whether small or large, is a vital ingredient of a successful result. Kensington knows how productive it is to pool resources and is most happy to do so.
If you are looking for a professional architect in Thailand, then Kensington are happy to introduce you to their own, or help you find the right one. They know many of them and work with numerous different architects in Thailand. If you are looking for a Thailand architect Kensington will make an appointment to meet with you. If the project is best suited to an alternative architect, they can also make sure you get the best architect in Thailand, right for your specific project and at a fair price. Contact Kensington for further details.
If you are an Architect in Thailand.....
If you are a qualified architect in Thailand or offer professional architectural services in Thailand, then Kensington is also open to discuss any joint projects and proposals you may have. The company understands fully the benefits of pooling resources and is always interested in positive productive associations. Please contact Kensington if you wish to discuss any such proposals, or just to introduce yourself.