Joint Ventures in Thailand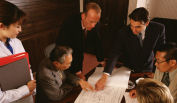 Kensington Company Limited is always willing to discuss operations through joint ventures with partners that provide capital, specific expertise, or both. In joint ventures, Kensington's capital partners typically provide the majority of equity and/or debt financing required for the project.
Joint ventures can be mutually beneficially as skills, talents, resources and expertise are pooled. This can work exceedingly well for all parties involved and they are happy to discuss such ventures with any potential partners in Thailand.
Kensington utilizes joint ventures in order to increase access to sources of capital, financing, and quality developments. The company expects to continue to utilize joint ventures on a selective basis, taking into account the integrity of the particular partner, other available sources of financing, project risk, and the potential return to the company.
The company is particularly interested in proposals where we operate as the construction company. Such ventures might include hotel construction, spa resorts, condominium projects, housing developments and any similar proposals.
f you are interested in a joint venture in Thailand and are looking for a Thai company to assist you in construction, then please contact Kensington for further discussion. Contact Kensington.