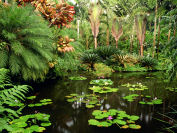 Kensington is able to offer the customer a full landscaping and garden design service in Thailand; from beautiful lawns to complete deluxe landscaping. With their expert assistance they can turn your garden into a beautiful place with a myriad of wonderful features.
Due to Thailand's glorious warm weather much time is spent outside and it is very important to utilize this space to its maximum. Kensington can create a special place for you to relax providing areas of shade and privacy.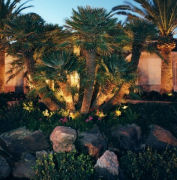 Through their professional service you can create a dream garden which can include water features, rockeries, barbecue areas, lakes, paved areas, patios, wooden decking, flower beds, ornamental walls, feature lighting, garden villas, swimming pools, Jacuzzi's, automatic garden/lawn water sprinkler systems, driveways, ponds, waterfalls, caves, slopes, fountains, remote controlled electronic gates, pergolas, trellises, storage units, garden sheds and sala's. There really is no limit to what they can do.
They can assist you in choosing specific trees, colourful plants and/or shrubs and assist in turning your garden into an exotic treat. You may choose particular palms, trees, flowers or fruit trees from local Thai suppliers and they will happily offer advice when necessary.
If you are interested in garden design and landscaping then please contact them for further information.