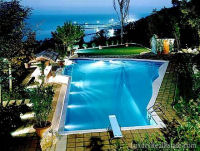 For any stylish house today, it would not be complete without its very own spa. Chic, stylish and certainly in vogue, the home spa really has flourished. Luxury home builders in Thailand can now offer many of us the opportunity to escape the stress of the modern world and enjoy the pleasures of a more relaxed, healthy lifestyle.
There is a wide variety of new spa equipment to choose from in Thailand to suit most budgets. Kensington can easily turn an area of unused space into your very own home resort. You too can now benefit from the soothing effects of a home spa and turn your Thai home into a very special place indeed.
Kensington Company Limited is able to provide you a professional spa installation service. From many years of experience they can offer excellent advice on the types of spa available and latest models you can incorporate into your home.
Swimming Pools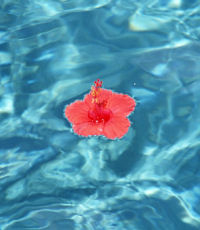 Kensington provide a complete swimming pool design and build service in Thailand. They are knowledgeable in all the various types and forms of swimming pools in Thailand, providing you the customer with a first rate service. They build all sizes, shapes and varieties of in ground swimming pools. They can help with the choice depending on your budget and space available, or alternatively customize it to your exact specifications.
Kensington are also experienced in the various water treatments and can install either a chlorine system, ozone system or a salt water treatment system. Each has their own benefits in regards to cost, health concerns and maintenance. Chlorine is the most common as it is low cost and effective. It is still widely used all over the world as the most popular way of cleaning the pool water. It does in rare cases, cause skin/eye irritation, has a minor odour and has to be used according to a specific way. However most pools are still using the Chlorine system and it is a productive way of keeping a pool clean.
The chlorine salt treatment, is becoming ever more popular, as it has no health concerns at all, is odourless, helps invigorate the skin, not irritating to the eyes and the chlorine produced, does not change the PH or alkalinity and acidity of the water. The Ozone water treatment system is a highly effective method and leaves no harmful substances in the pool at all. However it is the most expensive way.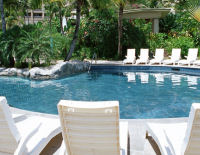 Kensington are associated with many of the best Thai contractors in the business and know the best options available. If you wish to add a little heat to the pool they can incorporate a heating system and even advise on solar generated heat.
The pool can be integrated around the house, in the middle of the garden, within a spa area or even inside the property.
You may include a Jacuzzi , a waterfall, a lagoon, a water curtain, canals, wet bar, pool shower, adjacent bar, sala, changing rooms, sauna, barbecue area and/or feature lighting. A design could incorporate exotic trees, stone columns, ornaments or rocks. You can create a modern minimalist design, a Roman bath, or opt for a more standard design such as a kidney shape or rectangle. There are numerous options only contained by the imagination, space and budget available. There really is no limit to what they can do.
Whether you are looking for a company to build a hotel swimming pool in Thailand, a house pool in Thailand, a spa resort pool in Thailand or a communal swimming pool in Thailand, Kensington Company Limited can help make your dreams and desires a reality.
Jacuzzi's & Hot Tubs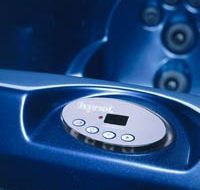 We all know how relaxing a warm bath can be and how cold water can be so refreshing. Hot water relaxes the body, soothing muscle tension which in turn relaxes us. Cold water invigorates us and energizes us for the day ahead. Hydrotherapy is the ultimate form of therapy. The benefits of hydrotherapy have been recognized for thousands of years. Today they are appreciated even more so, as stress levels are higher, than they have ever been. It can calm your nerves while renewing your vibrancy leaving you relaxed and refreshed.
The term most of us recognize is Jacuzzi, which is in fact a leading manufacturer's name, which has become synonymous with a wide variety of luxury spa products. Yet it is not the only manufacturer and there are many to choose from. In Thailand spa baths are often not heated and incorporated into a swimming pool; however many other options are available. Kensington offer both heated and non heated versions, depending on location and your preference. They will happily discuss what is most favourable to you. They can offer a wide range of products to install inside or outside that bring the known benefits right into your home. They can look at the space you have available and discuss your various options.
Alternatively they can actually custom build one to your requirements. Currently the custom made tubs/baths are very popular in Thailand's five star Spa resorts. Kensington can offer various finishes that not only look fantastic but are equally as productive as any manufactured model. The main benefit of these custom built varieties is you are not constrained by size and they can be built to your specific needs and desires.
Whirl Pool Baths & Air Baths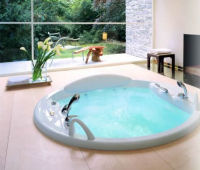 Kensington can also install various whirl pool baths and air baths into your home. There are various combinations and options available in Thailand and many models to choose from. Where whirlpools circulate a combination of air and water to produce an intense, targeted massage, air baths by design create a softer, subtler, full-body experience. Kensington can discuss your desires and help you choose the specific models that best fit your budget.
Specialist Showers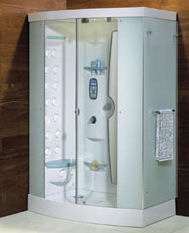 To finish off your home spa, why not indulge yourself with one of the many new hydro showers on the market in Thailand. There are many types of specialist showers to choose from and Kensington can assist you in making the right choice within the space and budget available.
Many have height-adjustable wall-mount sprays that slide effortlessly to the perfect position; luxurious steam generators that surround and settle the stresses of the day; adjustable body sprays that enliven any sleepy morning and some even have built in seats, which mean you can sit back and really enjoy the moment. Alternatively they can custom build your shower enclosure to your own special requirements adding whatever it is that you require. Most of the worlds leading brand names exist in Thailand to suit all budgets and Kensington are extremely happy to discuss any of your requirements.
Saunas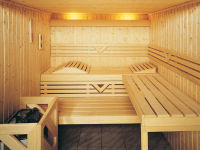 Settle into a sauna and let the warm air go to work. You will soon feel your muscles relax and the aches and stress fade away. Calories are burned and your skin feels refreshed; you breathe clearly and deeply. Once again, body and soul are invigorated and ready to take on the world.
Kensington can offer a wide selection of imported models including custom built, compact, designer, and outdoor types. They can be incorporated into a gym, bathroom or by the pool side. Various sizes are also available and once again you may choose the perfect one to fit your budget. If you are looking for a sauna installation in Thailand, then contact Kensington for excellent advice.
Steam Rooms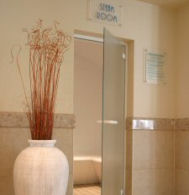 The relaxation provided by steam rooms can be traced back through history to early Rome and other ancient civilizations, where they were often known as steam baths. They have existed for thousands of years, in many forms. They are popular throughout the world and enjoyed by many countries that include Russia, USA, Japan, France, Sweden, Finland, England, Greece, Holland, Thailand and Turkey, to name but a few. Many resorts in Thailand now have them installed and you too can enjoy the benefits in your own home.
Steam rooms are now an affordable luxury in Thailand, which will improve the quality of your life in ways you can only imagine. A steam room deep cleanses and moisturizes the skin, relaxes tight overworked muscles and reduces aches and pain. It rejuvenates the body and revitalizes the mind. Even though steam rooms are sometimes referred to as 'wet saunas' and some benefits are the same, a sauna is dry while a steam bath is wet. The combination of the two is a luxury not to be missed.
Kensington can propose various manufactured models and design custom made, luxury themed steam rooms to suit the available area and the number of people you wish to seat comfortably. From single units to larger luxurious suites, Kensington can assist you in making the right choice.