Thailand Custom Built Homes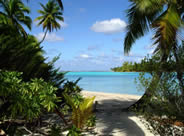 Have you ever dreamt of your own private tropical paradise? Maybe you have seen the James Bond film 'Man with the Golden Gun' and imagined yourself owning an exclusive home similar to the one pictured in the movie. To this day a pilgrimage of eager tourists still flock to James Bond Island in Krabi, just to glimpse where this movie located this stunning home.
Or perhaps you have your own ideas of the ultimate exclusive residence; or have seen something you like in the glossy pages of one of world's luxury home magazines. Whatever the dream, whatever the idea, Kensington's team have a bountiful imagination. Their professional experience means they carefully look at every option and idea; assuring confidence and success in the final outcome. They are only too eager to pursue fresh new ways of building, ground breaking designs, installation of amazing features and helping you to turn your dreams into reality.
"Kensington made my dreams come true. Thanks Kensington…you're the best!"
Belinda Ali Khan of the Villa Water Orchid

"Simply put, they are the best at what they do."
Rachel Burrows – Calendar Magazine
Your Own Private Tropical Island
Whether you have a limitless budget with no restrictions except the imagination, or a set budget to create something incredibly special; whatever it is Kensington can help you.
It could be your own private tropical Island complete with heliport, boat pontoon, waterfalls, lotus ponds, jungle trails and a sanctuary for local wildlife; imagine the life; how amazing this would be…maybe with splendid peacocks roaming the gardens, long tail macaques sipping from the waters edge, bananas growing in abundance, orchids, coconut trees and a plentiful supply of naturally grown fruit. If it's a private Island you desire, set off the coast of Phuket, then Kensington can help you. There are still private islands for sale in Thailand and they can turn your dreams into a wonderful reality.
Imagine if you will…you arrive by boat to your own pier, your luggage picked up by your trusty family of local Thai staff. The dream begins…….a luxury home where no comfort has been forgotten, designed to be unique and beyond anything ever conceived so far in Thailand; Created to naturally mould in to the landscape and in no way negatively impact the local eco system or environment. A tropical oasis means just that. A place of peace and tranquility sculpted using the most experienced professionals in design, landscaping, local knowledge and construction. The ultimate in lifestyle and a home that dreams are made of.
Whether your desire is sliding doors, secret James Bond style rooms, tropical lagoon style swimming pools, water slides, exotic wooden floors, lavish tiles, handcrafted wooden bridges over small streams, large balconies overlooking the sparkling seas, naturally set Jacuzzi's, feature lighting, specialised security systems, rain showers, opulent bathrooms, premium master suites, entertainment rooms, sunken seating areas, walls of glass, spectacular staircases and breathtaking water features. The list is endless and only bound by the imagination and budget. If you truly desire the most exclusive lifestyle built by the most imaginative and creative team in the country, then look no further. Contact Kensington for this exceptional look into the world of luxurious dream tropical Islands.
Your Own Private Luxury House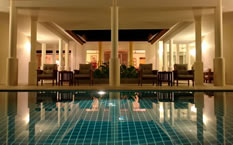 Perhaps you desire the very best in luxurious surroundings but do not have the budget for your own private Island. Have no concerns Kensington cater for all your needs and requirements. They cover all ranges, styles and budgets of homes. From concept, official authority permissions, all the way through to completion. You do not have to worry about anything except choosing colours and furniture. Or if you prefer Kensington can easily provide a full interior design service too. Some dreams are bigger than others but they are still dreams. So even if it's not a private island, your luxury home can still be a paradise, a haven of peace and gorgeous place to call home.
Kensington can help you if want to design/build a 4 bedroom luxury home with swimming pool, a private Island hideaway, an exclusive country estate, a luxury hotel, a spa resort or your medium sized family holiday home. Whatever the requirement Kensington can fulfill your needs. They are here to help. Their knowledge of the country and industry is second to none and with their help you really can turn those dreams into reality. Quality is not about cost but about the way the process is conceived and executed. Kensington treat all projects with the same respect and integrity. Your dreams, ideas and desires are important to them.
Kensington can help you every step of the way; from the acquisition of the perfect location to the productive completion of your dream home. They are capable of taking care of every aspect for you so the whole task becomes free from effort and stress. Or they are happy to work with you as much as you like. If you wish to be more involved they welcome it and if you prefer to let them do it all, they are happy to take responsibility. Whatever and however you wish to create your own tropical escape, Kensington are here to help you.
Just Imagine - Dreams are Possible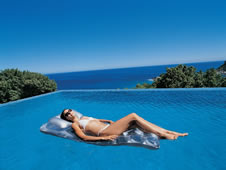 For a moment just relax, imagine and let your mind wander off……….A beautiful, spacious luxury home designed specifically for you by the very best architects and property experts. A unique and incredible home set naturally within a rich tropical oasis; surrounded by lush gardens, succulent plants and beautiful coloured flowers; a myriad of vivid colours, tall striking Heliconias, an abundance of flourishing leafy undergrowth; the hypnotic sound of a waterfall cascading into a rock lined lagoon. Can you feel the sun on your forehead, hear the trickle of water as it slowly meanders through soft lush undergrowth ?
Tall slim palm trees sway gently overhead, a cool breeze blows through the colourful garden and a brightly coloured bird flies overhead. You are reading a book, you put it down, marveling in the peace and tranquility of your new home; Sunlight shimmers off the ripples of water in your pool; the painted tiles accentuating the colour of water…..a deep turquoise blue. You get up from your comfortable cushioned sun bed and plunge in to the cool waters of your tropical lagoon pool. You lay back staring up into the endless blue skies ………… Your maid calls you, lunch is served. Fresh from the sea, tiger prawns barbecued with mixed salad, abundant mouth watering exotic fruits……pineapples, mango's, banana, watermelon and mangosteen.
You open a bottle of wine, your children sip on their chilled orange juice and you all sit back remembering the day you first contacted Kensington and they promised to turn your dreams into reality. They were as good as their word. Kensington literally create dream like homes. Most things are possible within reason and they are passionate in their pursuit of excellence. If you are looking for that idyllic lifestyle, enjoy exclusivity, luxury and a beautiful home of your own in Thailand, then Kensington are the people to talk to. Their integrity speaks for itself. Contact Kensington
Your Own Private Luxury Yacht

Maybe you are also looking to compliment this highly desirable lifestyle by purchasing your own private luxury yacht or even have your own yacht designed. Kensington personally knows many of the international luxury yacht brokers and are friends with some of the finest yacht designers in the world. There Managing Director grew up with many of them and has long lasting friendships with some of the very best in the industry.
Both in super yachts and luxury powered vessels. Kensington can help you make the right choices with the right people. This is merely a further addition to our VIP service and one we are happy to assist you with. If you wish to have yachts designed/built and/or purchase a beautiful power boat. They are happy to provide personal introductions.
For a VIP package and the very best in luxury design and construction contact Kensington and see what they can do for you.